London, a vibrant and diverse city, boasts a culinary landscape as rich and varied as its people. With influences from all corners of the globe, London's food scene is a melting pot of flavors, textures, and traditions. In this 3000-word guide, we'll take you on a mouthwatering journey through the city's neighborhoods, exploring the tastes and experiences that make London a gastronomic haven for food lovers. From the spicy curries of the East to the chic bistros of the West, prepare to embark on a culinary adventure like no other.
Southern Delights: Brixton and Peckham
South London is home to some of the city's most diverse and exciting food scenes, with neighborhoods like Brixton and Peckham leading the charge. Brixton's vibrant market is a treasure trove of international flavors, from the aromatic spices of Caribbean cuisine to the colorful array of African and Asian ingredients. Must-visit spots include Fish, Wings & Tings for Caribbean classics, and Franco Manca for some of the city's best sourdough pizza.
Peckham is another foodie hotspot in South London, where you can find a mix of trendy eateries and traditional family-run restaurants. Sample the Ethiopian delights at Persepolis, where you can enjoy flavorful stews served with injera, or indulge in modern British fare at the acclaimed Peckham Bazaar. And for a taste of Turkey, head to the bustling Rye Lane, where you'll find mouthwatering kebabs and meze platters at local favorites like FM Mangal and Levan.
Northern Flavors: Islington and Camden
North London offers a mix of upscale dining experiences and down-to-earth eateries, with Islington and Camden standing out as culinary hotspots. In Islington, you'll find an array of stylish restaurants and cozy gastropubs, catering to a variety of tastes. Enjoy modern British cuisine with a twist at Smokehouse, or savor the flavors of the Mediterranean at the renowned Moro. For those craving Thai food, Isarn offers an authentic and refined dining experience.
Camden, known for its eclectic vibe, is a haven for food lovers seeking international flavors. Camden Market is a must-visit destination, with its labyrinth of food stalls offering everything from Indian street food to Venezuelan arepas. For a taste of Japan, head to the renowned KOKO, where you can enjoy sushi, ramen, and more in a stylish setting. And for a truly unique dining experience, book a table at the immersive Gingerline's Chambers, where you'll be treated to a multi-course feast accompanied by theatrical performances and interactive elements.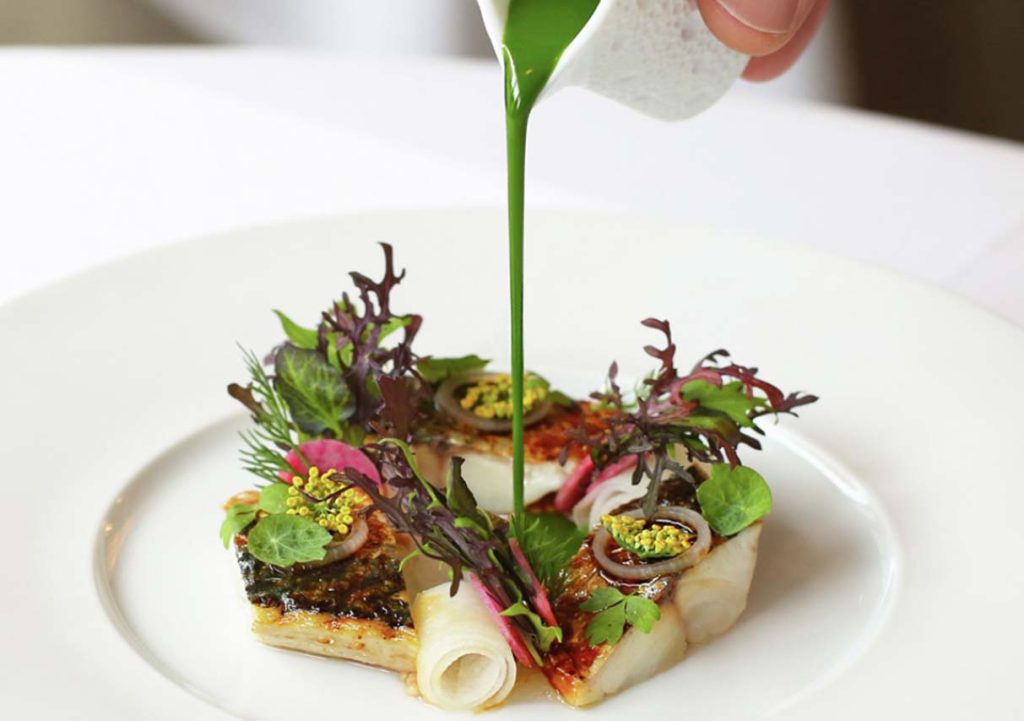 Eastern Spice: Brick Lane and Shoreditch
The East End of London is synonymous with bold flavors and vibrant culinary traditions. Brick Lane, with its rich Bangladeshi heritage, is the heart of London's curry scene, offering a plethora of curry houses and Indian restaurants. Visit the renowned Aladin or Sheba for a taste of authentic, fiery curries and aromatic biryanis.
Shoreditch, a trendy neighborhood known for its street art and vibrant nightlife, is a food lover's paradise. Indulge in gourmet street food at the buzzing Dinerama or Boxpark, where you can sample everything from bao buns to vegan burgers. For those craving a taste of the Middle East, head to Berber & Q for smoky, succulent meats and flavorful mezze. And don't forget to visit Dishoom, an iconic Bombay café that serves up a delicious fusion of Indian and British flavors.
West End Glamour: Soho and Mayfair
The West End of London, encompassing the stylish neighborhoods of Soho and Mayfair, is a culinary playground for the city's elite and food connoisseurs alike. With a mix of Michelin-starred restaurants, trendy eateries, and classic establishments, this area offers a taste of the high life.
Soho, with its maze of narrow streets and historic charm, is home to a diverse array of dining options. From the Spanish tapas at Barrafina to the innovative Indian dishes at Kricket, the flavors on offer are as varied as they are delicious. For a quintessentially British experience, visit the iconic Quo Vadis, where you can enjoy classic fare such as fish and chips, roast beef, and decadent afternoon teas.